A Comprehensive Guide to Selecting the Right Kids Bike Size
Cycling is a wonderful adventure that fosters a sense of freedom, confidence, and a love for the outdoors in children. And the journey to becoming a confident cyclist begins with choosing the right bike size. At My First Bicycle Foundation, we understand the importance of a properly sized bike in ensuring a safe and enjoyable cycling experience for kids. In this guide, we'll walk you through the essential steps to select the perfect kids bike size, helping you set them up for a lifetime of cycling success.
Understanding Kids Bike Sizes
When it comes to selecting a bicycle for kids, size matters more than you might think. Kids bike sizes are typically determined by wheel diameter, with common options being 12-inch, 16-inch, 20-inch, and 24-inch wheels. These sizes cater to different age groups and heights, ensuring an appropriate fit for your child's growth and development. We prepared a bike size chart to help you choose the perfect bicycle for your children: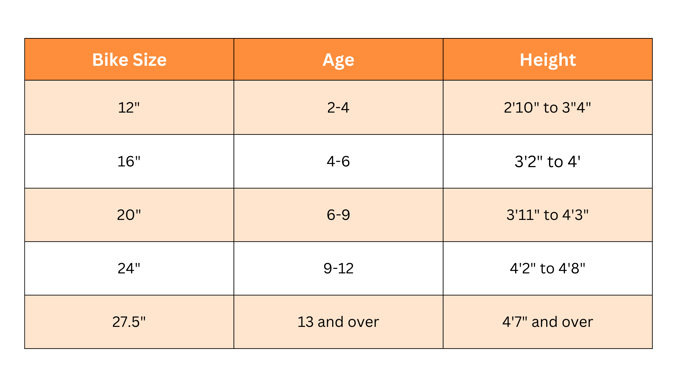 Prioritizing Safety and Comfort:
Safety is paramount when choosing a bike size for your child. Ensure that your young rider can comfortably reach the handlebars, brakes, and gear shifters without straining. Their feet should touch the ground while sitting on the saddle, allowing them to maintain balance and control. A bike that's too large can compromise their ability to steer and manage the bike safely.
Accounting for Growth:
We understand that kids grow faster than you can imagine. To ensure a lasting investment, opt for a bike with an adjustable saddle height and handlebar height. This feature allows the bike to "grow" with your child, extending its usability and saving you from frequent upgrades.
Finding the Best Kids Bikes in Canada:
If you're a low-income family in Canada and searching for bikes for your kids, we can help you. Our foundation is dedicated to providing quality bicycles for economically challenged kids across the country. Our selection caters to various sizes, ensuring that every child can embark on their cycling journey with confidence. We currently provide bike sizes in 20-inch, 24-inch, and 27.5-inch wheels. These sizes are thoughtfully chosen to accommodate a wide age and height range, allowing us to serve children at different stages of their cycling journey. With these options, we aim to provide kids with bikes that perfectly balance comfort, safety, and the joy of exploration.
Applying for Our Program
Our commitment to children's empowerment extends to our specialized program. We cater to children aged 5 to 16, recognizing these years as pivotal for fostering active modes of transportation. To qualify, children must come from low-income households. The Government of Canada's Low-Income Cut-Off (LICO) is our guide for eligibility. We've streamlined the process with a simple one-pager for each year to help families determine their eligibility.